Apple Seeds iOS 5.1 Beta 3 to Developers, Restores 'Enable 3G' Toggle
Returning from a holiday break, Apple today seeded iOS 5.1 Beta 3 to developers to allow for further testing of the next update to the company's mobile operating system. The new version arrives as Build 9B5141a, up from the previous Build 9B5127a released ad iOS 5.1 Beta 2 on December 12.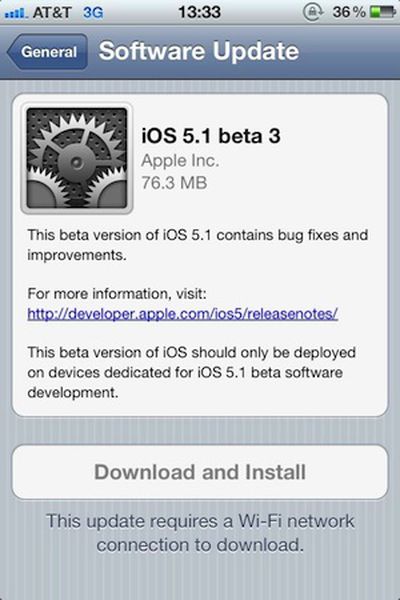 Screenshot of iOS 5.1 Beta 3 over-the-air update (Source: @CDeeRON)
So far the update appears to only be available via the over-the-air update mechanism for existing iOS 5.1 beta users, but should become available for general download through Apple's iOS developer program site shortly. We'll have more information on the new build at that time.
Update: We're still waiting for Apple to post iOS 5.1 beta 3 to the developer site with release notes, but commenters in our forums have noted that the new build restores the toggle that allows users to turn off 3G cellular data access. As Apple notes on the setting, 3G offers faster data speeds but uses more battery power than EDGE.


Update 2: iOS 5.1 Beta 3 is now available via the iOS developer program portal. Xcode 4.3 Developer Preview 3 and Apple TV Software Beta 2 have also been released today.


The full release notes for iOS 5.1 Beta 3 still have not been posted.
Update 3: The release notes for iOS 5.1 Beta 3 have now been posted, and one item of note involves a new API to help developers flag app content that should not be backed up.
iOS 5.1 introduces a new API to mark files or directories that should not be backed up. For NSURL objects, add the NSURLIsExcludedFromBackupKey attribute to prevent the corresponding file from being backed up.
The addition appears to be an expansion of the company's iOS 5.0.1 effort to help deal with content being stored for offline use that does not need to be committed to a device backup but which should not be subject to removal during the purging of caches. Apple will be replacing the com.apple.MobileBackup file attribute introduced in iOS 5.0.1 with the new API usage in iOS 5.1.