Newsstand in iOS 5 Fueling Growth of New Magazine Subscriptions
AllThingsD takes a look at how the launch of Apple's Newsstand feature as part of iOS 5 has affected subscription sales for Popular Science magazine, revealing that the prominent placement of the Newsstand app and easy access to updated content has driven a substantial increase in new subscriptions.
The chart comes to us courtesy of Mag+, Bonnier's tablet-publishing software business. And as Mag+ CEO Staffan Ekholm points out, the really promising indicator for Pop Sci isn't the one-week sales leap of 13 percent — it's that the the magazine's growth picked up after that week, with more velocity.
Based on the graph, Popular Science appears to have been adding new subscribers at a fairly constant rate of about 700 per week during the several months leading up to the debut of iOS 5. But more than a month after the significant bump immediately following iOS 5's release, the magazine is still seeing subscription growth at nearly double the rate seen before the arrival of Newsstand.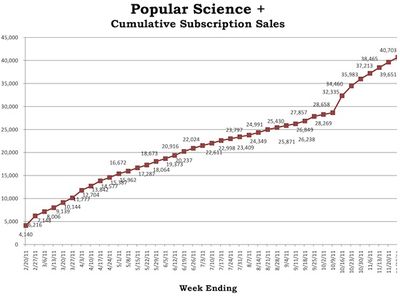 Apple developed Newsstand as a way to allow users to keep track of what could be a large number of magazine and newspaper subscriptions, housing them all in a dedicated folder where they can be updated in the background and display the latest covers to help users identify new content.
Apple is not alone, however, in trying to provide centralized access to subscription newspaper and magazine content. Just this week, Amazon updated its Kindle iOS app to add support for its newsstand of over 400 newspapers and magazines on the iPad.