As noted by iFun.de [Google translation] and Macerkopf.de [Google translation], Apple has begun posting job listings for a forthcoming retail store in Berlin, the company's first in a city that ranks among the largest in the European Union.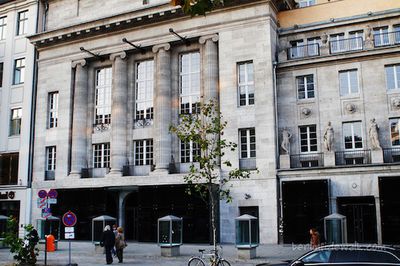 Kurfürstendamm 26 in Berlin with blacked-out ground-floor windows (Source: Berlin Sidewalk)
The store's location was
detailed earlier this year
by
ifoAppleStore
as a nearly century-old theater building at Kurfürstendamm 26 in one of the city's major shopping districts. The entire building, including an addition, measures in at approximately 4,500 square meters or over 48,000 square feet, but it is unclear how much of the building Apple is taking.
ifoAppleStore
suggested earlier this year that Apple could take a pair of 10,000 square-foot floors for retail space, which would make the store a relatively large flagship location by the company's standards.
The interval between Apple posting job listings and the opening of a new store can vary significantly, but is typically in the range of six months, meaning that the new Berlin store may open sometime toward the middle of 2012.