Apple Predicted to Sell Nearly 200 Million iPhones Next Year
Morgan Stanley analyst Katy Huberty, who has historically been rather conservative in her predictions of Apple's performance, issued a new report yesterday (via Fortune) suggesting that Apple could sell nearly 200 million iPhones next year. The number would be more than double that of this year's iPhone sales, which currently stand at 56 million ahead of a blockbuster quarter that is expected to add perhaps 30-35 million to that number.
- iPhones are selling surprisingly briskly. Based on the survey and last week's comments from AT&T (T), Huberty estimates that Apple (AAPL) could ship anywhere from 31 to 36 million iPhones this quarter -- as much as 20% higher than the 30 million she's modeling and nearly 30% higher than the 28 million Wall Street is expecting.

- iPhone demand is accelerating. "Surprisingly," she writes, "US consumers expect to buy more iPhones in C1Q12 than C4Q11" (emphasis hers). Even discounting the survey results 10%, that suggests Apple could sell 13 million iPhones in the U.S. and 41 million worldwide next quarter. Morgan Stanley's model has Apple selling 30 million iPhones in calendar Q1 2012.
Huberty's predictions are based on her own research and a consumer survey by AlphaWise that pegs demand for the iPhone next year 40% higher than anticipated by Morgan Stanley in its "base case" scenario.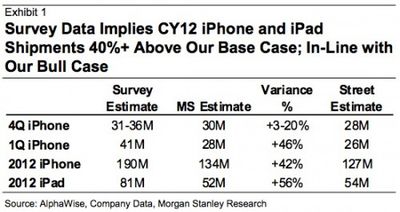 On the tablet side, the survey data points to a similar story, with Huberty's survey data indicating that Apple could see sales of over 80 million iPads next year, well above her firm's estimate of 52 million units. Apple has sold 25 million iPads so far this year, with analysts estimating that Apple may add 13-14 million units to that total in the holiday quarter.