The Beatles' 'Yellow Submarine' Hits iBooks as Free Animated e-Book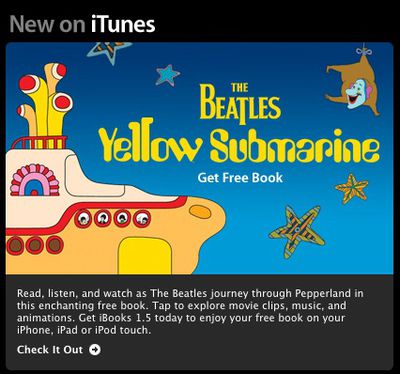 The Beatles today announced the debut of a free animated version of the band's Yellow Submarine book as an exclusive on Apple's iBookstore. Apple is also prominently promoting the release on the main iBookstore page within iTunes and in emails to iTunes users, showing off some of the capabilities of iBooks on the company's mobile devices.
The iBookstore's exclusive 'Yellow Submarine' book takes the reader on a kaleidoscopic, music-filled journey with The Beatles to an underwater dreamland featuring animated illustrations and text from the 2004 book, 14 full-color video clips from the original 1968 film, audio clips of classic Beatles hits and Sir George Martin's original score, original dialogue from the film, "read aloud" functionality to follow along as actor Dean Lennox Kelly narrates, as well as interactive features that let you tap the story's wild array of butterflies, starfish and sea monsters to make them come alive. A video trailer for the book is available for free streaming starting today at www.iTunes.com/TheBeatles.
The press release notes that the book release is in celebration of one year of availability for The Beatles on the iTunes Store. The Beatles have sold over 10 million songs and 1.8 million albums through iTunes since their November 2010 debut.
Apple is also leveraging the Yellow Submarine release to promote its new iBooks 1.5 release, which earlier this week added a night-time reading mode, full-screen mode, and new fonts.


Yellow Submarine [iTunes Store] is a free 317.5 MB download through the iBookstore. A trailer for the book and a link to purchase the music from the book are available on the main iTunes page for The Beatles [iTunes Store].