Apple Updates iBooks App with Nighttime Reading Theme, New Fonts, More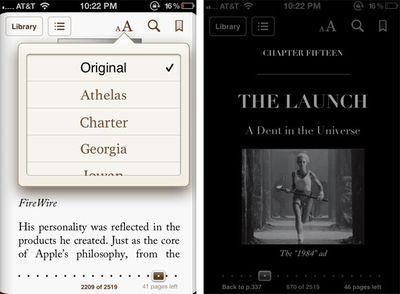 Apple released a version 1.5 update to their iBooks iOS app that provides a number of new features to the ebook application:
iBooks 1.5 adds the following new features as well as some stability and performance improvements:

- Nighttime reading theme makes reading books in the dark easier on the eyes.
- Full-screen layout lets you focus on the words without distraction.
- iBooks now features an improved selection of fonts, including Athelas, Charter, Iowan, and Seravek.
- Beautiful new classic covers for public domain books.
- Support for pop-up footnotes, included in select iBookstore titles.
- A redesigned annotation palette makes it easier to choose a color for your highlighted text.
iBooks is a universal app that supports iPhone, iPod Touch and iPad. [App Store]