Grand Central Terminal Packed for Apple Retail Store Opening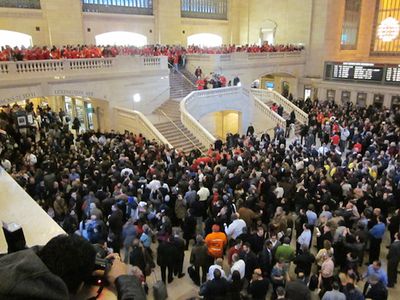 Following Wednesday's media preview event, Apple's massive new retail store in Manhattan's Grand Central Terminal opened to the public today at 10:00 AM. As noted by Fortune, the main concourse of the terminal was filled with hundreds of people waiting for the store to open as hundreds more red-shirted Apple employees prepared to welcome them.
As is traditional for Apple retail store openings, the company is handing out store-specific T-shirts to early visitors.
Fortune
notes that Apple has prepared to hand out 4,000 T-shirts for today's opening.