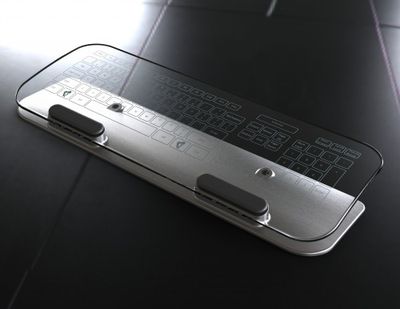 The latest cool Kickstarter project that we've run across is one by Jason Giddings who promises to build a modern multi-touch keyboard and mouse. Multi-touch keyboards have been done before, but none that we've seen in recent years since the rise in popularity of the iPhone.
This project seeks to modernize the multi-touch keyboard with an attractive glass design:
Multi-Touch keyboards and mice are the next generation in computer peripherals. These elegant well made devices are composed of quality tempered glass, a solid metal base, and the finest components. They are designed using simple existing technology and have no moving parts. They have rechargeable Lithium Polymer batteries and are completely wireless. The tactile sounds and lighting can be turned on or off per the users' preference plus they are coffee and doughnut resistant!
The software might be the most difficult part in integrating into the OS, and is planned to be released as open source in order to give tinkerers the ability to continue to tweak the experience. The
cost
for one of these finished keyboards will be $250 or more, with $350 to get both the keyboard and mouse. The project requires $50,000 backing total for it to go forward.