Apple Retailers Preparing for Black Friday Sales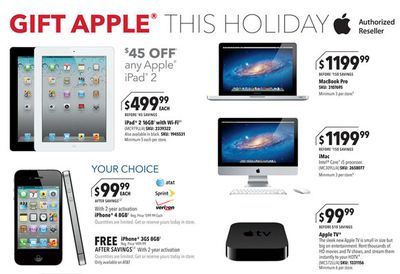 BestBuy
Black Friday sales for Apple Products
Online and retail stores are already starting to promote their upcoming "Black Friday" sales. Black Friday is the day after Thanksgiving in the United States and marks the traditional start to the holiday shopping season. The day brings early store openings and deep discounts from many retailers, and ranks as one of the busiest shopping days of the year.
BestBuy has posted a preview their Thanksgiving/Black Friday sales advertisement already showing the following discounts on Apple products:
- $45 off an iPad 2
- $150 off $1199 MacBook Pro
- $150 off $1199 iMac
- $10 off $99 Apple TV
- $100 iTunes Card for $80
Apple also typically participates in Black Friday sales with more moderate discounts. Last year, Apple offered $101 discounts on their iMac, MacBook Pro and MacBook Air lines, with $11-$41 discounts on the iPods and iPads.
Online retailers MacMall and MacConnection also offer similar online sales, typically offering the deepest available discounts. We'll provide more coverage on specific discounts as Black Friday approaches.