AppleCare+ Now Available for Sale Within 30 Days of iPhone Purchase
Alongside the launch of the iPhone 4S, Apple also debuted a new $99 AppleCare+ program offering an extended warranty with accidental damage coverage. The AppleCare+ package replaced the previous $69 AppleCare for iPhone offering that did not offer accidental coverage.
Some confusion about the AppleCare+ program arose in its early days, stemming in large part from Apple's requirement that the coverage be purchased at the same time as the iPhone, a requirement that seemed to conflict with the legal text of the agreement which stated that AppleCare+ must be purchased within the device's one-year standard warranty period. Regardless, a number of customers were not offered the AppleCare+ option at the time of pre-ordering, and Apple addressed the issue by offering a temporary exception to allow any early iPhone purchaser to obtain AppleCare+ through November 14th.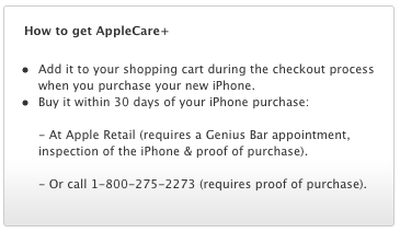 With that deadline for delays AppleCare+ purchases having now passed, Apple appeared set to revert to the original policy of requiring that the plan be purchased at the same time as the iPhone. But Apple has now updated its AppleCare+ page to indicate that users can purchase it in-person at an Apple retail store or over the phone any time within 30 days after the iPhone purchase.
How to get AppleCare+

* Add it to your shopping cart during the checkout process when you purchase your new iPhone.

* Buy it within 30 days of your iPhone purchase:
- At Apple Retail (requires a Genius Bar appointment, inspection of the iPhone & proof of purchase).
- Or call 1-800-275-2273 (requires proof of purchase).
Apple has also revised the AppleCare+ terms and conditions to remove the previous mention of the option to purchase any time within the one-year standard warranty period.


In addition to the new 30-day window, SprintFeed reports that it has received an internal Sprint notice indicating that the original amnesty period for early iPhone 4S purchasers has also been extended through December 15th. The wording does suggest, however, that the 30-day limit still applies to these customers, so customers who purchased the iPhone 4S on launch day would still be out of luck given that the window has now passed for them. But the policy does offer some continuing retroactive coverage for customers who purchased their devices less than 30 days ago.