Source Claims Hands-On Experience with iPhone 5 Prototype
While the redesigned "iPhone 5" form factor failed to surface with last month's update that saw the introduction of the iPhone 4S, reports have suggested that the next-generation iPhone expected to debut next year will indeed carry a significant redesign.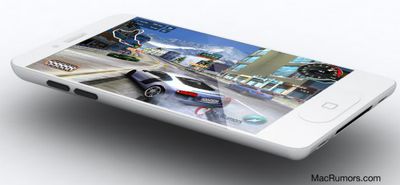 Business Insider now reports that it has received word from a source who has claimed to have had access to an iPhone 5 prototype and offered some details on the device.
We've been told this by an industry source who has been right about future Apple products in the past.

We have not been able to verify what he told us with a second source. So we're still treating these details as rumors. You should probably still read this post with a nice fat dose of salt.
According to the source, Apple did indeed hope to launch the iPhone 5 this year, but was forced to scrap those plans several months before the iPhone 4S was ultimately introduced. Among the iPhone 5 details cited by the source:
- 4-inch screen
- Aluminum back
- Capacitive home button
- "Flatter" form factor
- Much faster than current hardware, but poor battery life
- 10-megapixel rear camera
- Siri prototype known as "Assistant", which had been the rumored name for the feature until its introduction
According to the source, the primary objection regarding the prototype design came from Steve Jobs, who claimed that the larger screen would result in fragmentation of the iOS ecosystem, something the company has worked hard to limit.
Business Insider does not have a particularly solid track record on Apple product rumors, and is also including its own warnings about taking the report with a grain of salt. But the claims are certainly of some interest given the curiosity surrounding what happened with the claimed leaked design that resulted in significant numbers of cases being produced for a device that failed to appear.