So, It's the Next iPhone That Will Be a Complete Redesign...
Only a day after the iPhone 4S launch and rumors of the next Apple iPhone have already started. CNet reports that it's actually Apple's next iPhone that will get a major redesign. Of course, we've heard that before.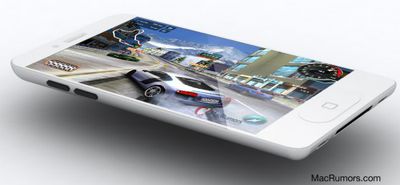 Mockup based on previous rumors
CNet cites two sources for the news. First is a research note from analyst Ashok Kumar at Rodman & Renshaw. Kumar claims that Steve Jobs was intimately involved with the next iPhone from concept to final design. Kumar recites features that have been circulating previously, including a slimmer profile and larger screen size.
CNet, however, also has their own source who seems to have very similar information:
Another source, who I spoke with this week and who claims to have knowledge of the redesign, said the iPhone 5 is a "complete redesign. This is a very large project that Steve dedicated all of his time to. He was not that involved in the 4S because his time was limited."
Most have already expected that the next iPhone will be a case redesign. With the release of the iPhone 4S, Apple seems to have established a pattern for their releases. A new design (iPhone 3G, 4), and then one with internal improvements (3GS, 4S).