Nearly All Apple Hardware Costs More Than the Average PC
Setting aside the claim of analysts that Apple "missed" earnings last quarter, Apple sold record numbers of Macs (4.9 million) and iPads (11.1 million). During a conference call with analysts earlier this week, Apple CEO Tim Cook was asked about "cannibalization" -- the thought that increased sales of one type of product will impact sales of another. In this case, will iPad sales negatively affect Macintosh sales?

I do believe that we're seeing cannibalization. I think that it's showing up in 2 ways. I think that some people are electing to buy an iPad rather than a Mac. However, I believe a materially larger number of people are electing to buy an iPad instead of a Windows-based PC. And so I think we are overwhelmingly coming out very, very well in that cannibalization question. And I would point out that despite that, the Mac had its best quarter by far ever last quarter. And so even with having the best quarter on iPad with some cannibalizations in Mac, the Mac has its best quarter ever, which is almost unbelievable. And so with cannibalization like this, I hope it continues.*
Cook believes that the iPad is cannibalizing the PC market, and to a limited extent, the Macintosh as well. However, with both iPad and Mac breaking sales records, things are good so far as Apple is concerned.
There is no doubt that the Macintosh is a premium computer offering, with the most inexpensive full-featured Mac being the $999 11" MacBook Air (the Mac Mini does start at $599 but needs an additional keyboard, mouse and display to work). For the first three calendar quarters of 2011, the average selling price (ASP) of all Macs, both notebook and desktop, was $1297.75. This is more than double the ASP of a generic Windows PC. For that same time period, January through September of this year, the average selling price of a Windows PC at U.S. retail was $491, according to NPD's Retail Tracking Service**.
In October 2008, long before the iPad made its debut, then Apple CEO Steve Jobs said this:

There are some customers which we chose not to serve. We don't know how to make a $500 computer that's not a piece of junk, and our DNA will not let us ship that. But we can continue to deliver greater and greater value to those customers that we choose to serve. And there's a lot of them. We've seen great success by focusing on certain segments of the market and not trying to be everything to everybody. So I think you can expect us to stick with that winning strategy and continue to try to add more and more value to those products in those customer bases we choose to serve.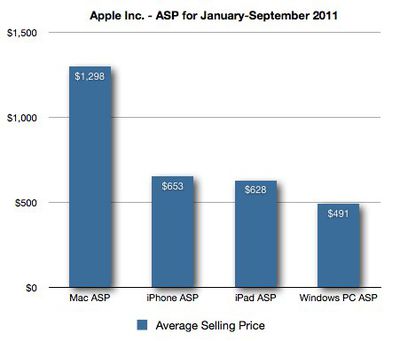 But these days, Apple does make a $500 computer -- the iPad. The least expensive iPad is $499, precisely the price point Jobs claimed Apple couldn't make a computer that wasn't "a piece of junk." In fact, the iPad ASP for the first three calendar quarters of 2011 was $628, more than $130 higher than the average Windows PC. Perhaps even more incredible is that Apple's smartphone offering, the iPhone, had an ASP of $653 over the same period.
All three of Apple's most profitable product categories -- the Mac, the iPhone, and the iPad -- have average selling prices significantly higher than a generic Windows PC.
Analysts and other computer industry watchers typically compare Apple's computer sales with Windows PC's, assuming that comparing computers-to-computers is an apples-to-apples comparison. However, given that the ASP of the typical Windows PC in the US is less than ASP of all Apple's major products, perhaps a better comparison -- from a financial perspective -- is to add the sales numbers for iPhone, iPad, and Mac together.


The combined average selling price of the Mac and iPad -- Apple's most "computeresque" offerings -- is $852 for the first 9 months of 2011. When the iPhone is added to that, the combined ASP of Apple's three most popular products is $733, nearly 50 percent higher than average selling price of a Windows PC sold at U.S. retail.
In just 9 months, Apple sold 12.6 million Macs, 25.1 million iPads, and 56.1 million iPhones -- 93.7 million units for total sales of $68.7 billion dollars.
*Tim Cook quote via Seeking Alpha transcript
**The average selling price for a Windows PC sold at U.S. retail (for the first three quarters of 2011) was $491 based on NPD's Retail Tracking Service. The Apple ASPs used in this article are calculated from Apple's earnings reports, which are not broken out by country. This should be considered when comparing NPD's U.S. Retail numbers to Apple's worldwide numbers.