U.S. Apple Stores Opening at 8 a.m. for iPhone 4S Launch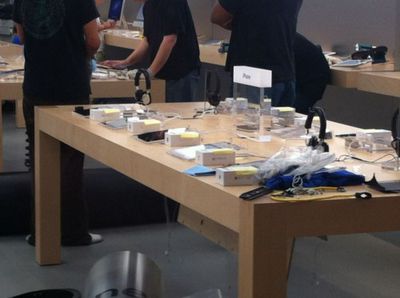 U.S. Apple Stores are pulling overnight shifts to put up new displays and promo materials for the iPhone 4S launch. @ifostore is standing in line and shot the above photo where the staff is exchanging old iPhone 4 models with the new iPhone 4S.
Meanwhile, other parts of the world have already seen the iPhone 4S launch, and to massive crowds. Smh.com.au has a running update of the launch in Australia. Even 4 hours after the launch, the line to the Sydney store was described as "appalling" going half way down King Street.


The Japanese launch was hampered by registration slowdowns from Softbank, according to the Wall Street Journal:
The launch of the iPhone 4S in Japan was interrupted when Softbank – the main service provider for Apple products in the country—suffered a server glitch that temporarily suspended sales nationwide. A company spokesman said the servers were unable to process registration information.
Analysts are predicting weekend sales to top that of the iPhone 4 which sold 1.7 million units its opening weekend. Estimates range from 2 million to as high as 4 million.

@NikkorNoct at Covent Garden, UK
In the U.S., Apple Stores will be opening at 8 a.m. local time to launch the iPhone 4S. Additionally, Verizon, AT&T, and Sprint stores will also be stocking the new device, but those retailers tend to get fewer units per store than Apple's stores.
Gizmodo also notes
that Radio Shack, Best Buy, Target and Sam's Club may have units, but your mileage may vary.
MacRumors forum members have been organizing meetups for the iPhone 4S launch in our dedicated forum.