Behind the Scenes of the 'iPhone 5' Case Gamble
Businessweek takes a look into the world of iPhone case manufacturers, a few of which had made gambles on what the "iPhone 5" was going to look like.
Since Apple doesn't share case designs until the final product is released, case makers rely on rumors and factory leaks to plan for their new cases. According to the CEO of Coveroo, "If you have a good sense that you have the right measurements and plans, then you can ramp up production." That said, he also warns that guessing wrong could risk losing millions in worthless inventory.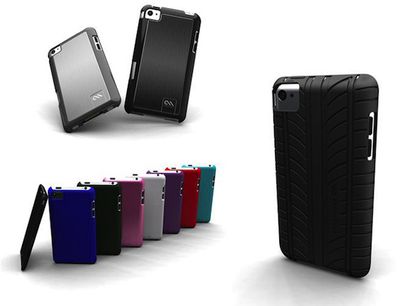 iPhone 5 case images from
CaseMate
The article also interviews Tim Hickman of Hard Candy Cases, the same case manufacturer that we reported
seemed confident in a tapered iPhone 5 design
immediately before the iPhone 4S announcement. That company bet $50,000 that the new case designs would be dramatically different.
After three separate manufacturing partners in China sent him detailed 3D models of an iPhone with a widened, pill-shaped "home" button and a slightly tapered back, Hickman decided to roll the dice. He paid $50,000 to make steel moldings to mass-produce cases for the new design and, on the morning of Apple's announcement, began taking orders on his website.
Factories in China provide the leaked specs to these case makers in an effort to get their business. According to Hickman using these leaks "pisses Apple off". But guessing correctly can be rewarded with an early ramp up in cases with availability soon after a new product launch. It's this possible financial reward that has tied the case industry so closely with Apple rumors.