Sam's Club Begins Taking iPhone 4S Reservations for Friday Launch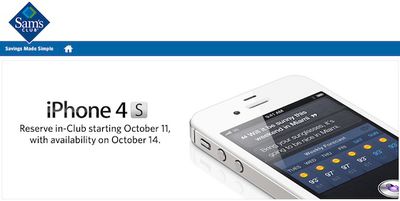 While Apple has touted Wal-Mart, Target, and Best Buy as its featured third-party retailers in the United States to carry the iPhone 4S at launch, Wal-Mart's warehouse club chain Sam's Club has now joined the list, alerting customers today that it is now taking reservations for the device. The iPhone 4S will be available through Sam's Club on the official launch day of this Friday, October 14th.
iPhone 4S will be available for pre-order at most Sam's Club locations beginning at 10:00 a.m. on October 11th on a first-come, first-served basis. Available for purchase on October 14th while supplies last.
Not all Sam's Club locations offer the iPhone, so customers should check the Sam's Club iPhone database to determine which clubs will offer the device for their carrier of choice. Sam's Club is also not offering a discount on the iPhone, but it does provide one more option for customers looking to purchase an iPhone 4S on launch day.
Apple sold out of its initial stock of iPhone 4S pre-orders in less than 24 hours, announcing that it had taken over one million pre-orders over that time.
Best Buy confirmed yesterday that it will carry the full line of iPhone offerings, and RadioShack has also been taking in-store pre-orders ahead of Friday's launch.
(Thanks, Daniel)