First iPhone 4S Deliveries Made to German Customers Ahead of Official Launch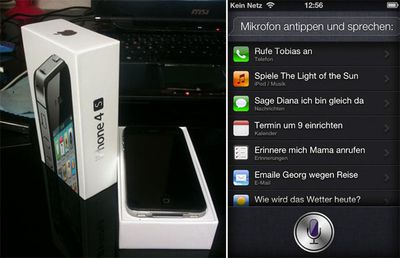 The first iPhone 4S deliveries have already started arriving in customers' hands. Several German customers have received their new phones several days before the official launch. Macerkopf.de posts a several images of the new device from different readers.
We've already seen information leak out about the device as early units make its way into the hands of customers. General benchmarks have shown the new device to be about 68% faster than the iPhone 4 and with graphics benchmarks close to 7x as fast.
The iPhone 4S officially goes on sale on Friday, October 14th with pre-orders scheduled to be arriving on the same day. At this point, if you haven't pre-ordered a device, the only way to get the iPhone 4S on launch day will be to stand in line at a local retail store.