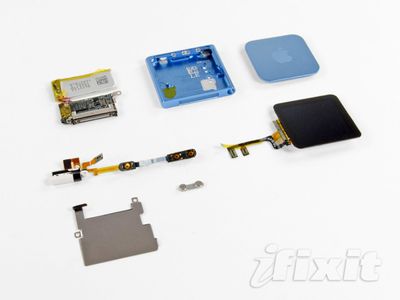 iFixit has gotten its disassembling hands on the latest iPod Nano and taken it apart piece by piece. They discovered the new 7th Generation Nano, introduced on Tuesday, is very similar to the prior version.
The most difficult part of the teardown was removing the display which "requires the use of a heat gun, as there is a lot of adhesive holding it in place." Once the display is removed, though, disassembly is pretty straightforward.
There were software changes between the old generation Nano and the new, but those changes are available to prior Nano owners via a software update. The new Nano's biggest feature is a reduced price. The 8GB version is now $129 and the 16GB model is $149, down from $149 and $179 respectively.