Amazon Media Event Set for September 28th, Tablet Announcement Expected
As noted by AllThingsD and This is my next, Amazon has just sent out invitations for a media event scheduled for next Wednesday, September 28th. The invitation is silent on what the topic of the event will be, but the company is widely expected to introduce its own low-cost Android tablet.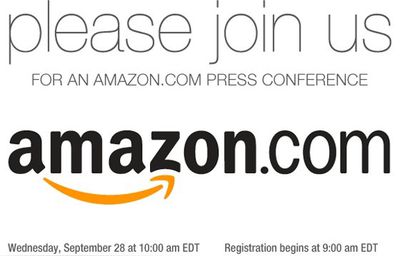 Reports from earlier this year indicated that Amazon was planning to launch a 9-inch Android tablet before October, but it appears that Amazon's first offering may in fact be a 7-inch tablet. TechCrunch's MG Siegler spent some hands-on time with the device, noting that Amazon has basically forked Android to create its own look tightly integrated with Kindle and other Amazon offerings.
Simply put: it looks nothing like the Android you're used to seeing.

The interface is all Amazon and Kindle. It's black, dark blue, and a bunch of orange. The main screen is a carousel that looks like Cover Flow in iTunes which displays all the content you have on the device. This includes books, apps, movies, etc.

[...]

But the key for Amazon is just how deeply integrated all of their services are. Amazon's content store is always just one click away. The book reader is a Kindle app (which looks similar to how it does on Android and iOS now). The music player is Amazon's Cloud Player. The movie player is Amazon's Instant Video player. The app store is Amazon's Android Appstore.
Perhaps most notably, Amazon is said to be targeting a $250 price point for the device, half that of Apple's entry-level iPad.
Numerous iPad competitors have been introduced over the past 12-15 months, with a number of them being hailed as the biggest challenge to Apple's dominance before failing to gain customer acceptance. But Amazon's ability to integrate its extensive content offerings with a low-cost tablet device has sparked renewed speculation that Apple may finally face a strong challenge in the tablet market.