iPhone Users Demonstrate Strong Loyalty with Planned Retention Rate of 89%
Investment research firm UBS today issued a report highlighting retention rates for smartphone users, judging consumer loyalty based on whether they plan to make their next purchase from the same manufacturer as their current handset. According to the worldwide survey, 89% of iPhone users report that they will purchase another iPhone.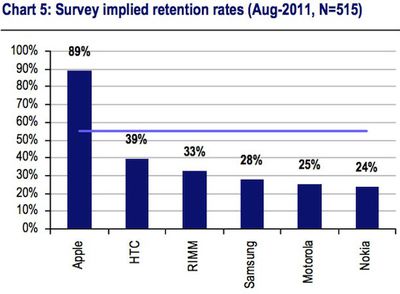 No other manufacturer topped a 40% retention rate in the survey, with HTC taking second place at 40%. Android as a whole has a planned retention rate of about 55% according to the survey, indicating that while many current users of Android handsets are planning to switch manufacturers, a fair number of them do intend to stay with Android. But 31% of surveyed Android users report intending to switch to the iPhone for their next device, with over 50% of the total "switchers" planning to move to Apple from another manufacturer as only about 10% of switchers are moving away from Apple.


Research in Motion has experienced a steep drop in retention rate, with only 33% of current BlackBerry users planning to purchase another BlackBerry, down from 62% a year and a half ago. In contrast, Apple's retention has fallen only 6 percentage points over that time in the face of strong competition from Android.