Ivy Bridge to Support Ultra High Resolution 4096x4096 Screens
Intel offers another bit of hope in our ongoing quest for ultra-high resolution retina displays. The graphics capabilities of their upcoming Ivy Bridge processors will provide support for 4096x4096 pixel displays.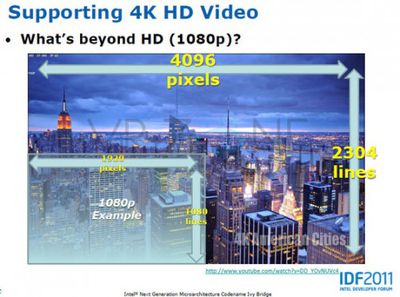 VR-Zone notes that Intel revealed last week that they will be able to support 4K resolutions and process video at that resolution:
Not only can the MFX engine display up to 4096 x 4096 pixels on a single monitor, but it can also handle video processing for 4K QuadHD video as well. Remember when, two years ago, Jen Hsun Huang at Nvidia for the first time encouraged 4K resolution - at that time 3840x2400 or as he called it XHD2, for ultra realistic gaming too, to use the extra pixels to justify the high end card need? Now, what a fate, Intel is making it real on the - integrated graphics platform, of all. Now, can we have back those 16:10 3840x2400 or, better, 4096x2560 monitors?
Ivy Bridge is Intel's next generation processor that also integrates a much improved graphics processing unit (GPU). Generally, high end computers aren't constrained by the capabilities of the integrated graphics processor. MacBook Pros and iMacs tend to integrate more powerful 3rd party GPUs. Slimmer models, however, such as the MacBook Air and Mac mini are dependent on the integrated graphics that Intel provides. So the 2012-era MacBook Airs should be able to support these ultra high resolutions that we've been dreaming about.
OS X Lion has built in support for such displays and it seems Microsoft is also preparing for them.