Intel Previews Low-Power 'Haswell' Processors for 2013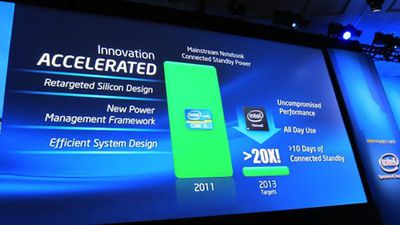 Slide from Intel's Haswell preview (Source: Gizmodo)
Intel today
previewed
its future "Haswell" family of low-power processors at its Intel Developer Forum, showing how the line of chips planned for a 2013 debut will be able to dramatically increase power efficiency to increase battery life on its so-called "Ultrabook" systems.
[Intel CEO Paul] Otellini also described the new class of platform power management in development for the 2013 "Haswell" products for Ultrabooks. The advances in silicon technology and platform engineering are expected to reduce idle platform power by more than 20 times over current designs without compromising computing performance. Otellini said he expects that this design change, combined with industry collaboration, will lead to more than 10 days of connected standby battery life by 2013. The advancements will aid in delivery of always-on-always-connected computing where Ultrabooks stay connected when in standby mode, keeping the e-mail, social media and digital content up-to-date.
Intel demonstrated the low-power nature of the Haswell platform by rigging up a prototype Haswell system running off a solar cell powered by light bulbs and other ambient light. Full systems based on Haswell will obviously contain many other components that will increase the power draw, but it is clear that Intel is taking power consumption seriously as it seeks to facilitate thinner and longer-running notebook systems running on a platform that can compete head-to-head with the efficiency of the ARM chips used in many smartphones and tablets today.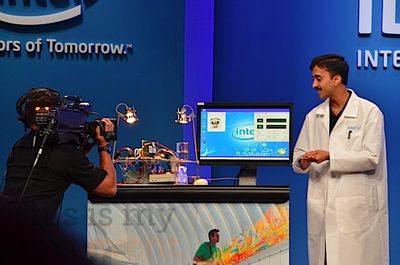 Intel demonstration of Haswell system running on solar power (Source: This is my next)