Apple Already Planning Third Corporate Campus?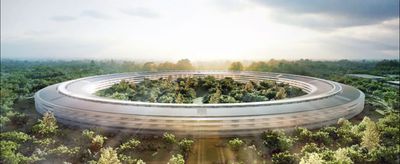 Even as Apple is still in the early stages of the planning process for its new corporate campus in Cupertino, California, it appears that the company has acknowledged that even that mammoth 13,000-employee complex probably won't be sufficient and that it will likely begin planning on a third campus once "Apple Campus 2" is up and running in 2015. News of the company's plans comes from Cupertino mayor Gilbert Wong, who spoke with the San Jose Mercury News (via The Next Web).
And just like a new gadget, the company may not be done upgrading. Wong said Apple executives have told him the company is expanding so fast that it expects to start working on Apple Campus 3 at an unknown location after they finish the second headquarters in 2015. An Apple spokeswoman declined to comment on plans for a third campus.
Planning for the new "spaceship" campus is continuing to move forward, with Cupertino set to hold a public scoping hearing regarding the project's environmental impact report tonight. Apple is reportedly requesting 13 separate approvals from the city in connection with the project, with Apple hoping to receive final approval by late 2012. That schedule would see construction begin on the new 2.8 million square foot circular main building in 2013, with an opening targeted for 2015. The campus will also include a separate 25,000 square foot fitness center, 1,000 seat auditorium, a parking garage, an energy center, and several ancillary buildings devoted to research and development.