QuickBooks for Mac 2012 Brings Lion Optimization, Over 50 New Features and Enhancements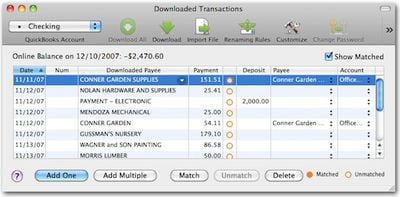 Intuit today announced the forthcoming debut of QuickBooks for Mac 2012, the latest version of the company's financial management software for small businesses. The new OS X Lion-optimized version is set to ship on September 26th and will offer over 50 new features and enhancements.
"As more and more small businesses adopt Macs, we see increased adoption of QuickBooks for Mac," said Dan Wernikoff, senior vice president and general manager of Intuit's Financial Management Solutions division. "In response, we've recommitted ourselves to making the product even better. With Apple's new Lion OS, we focused on a simple, elegant and easy to use native experience, while continuing to add new features that save small businesses time."
Among the enhancements included in QuickBooks for Mac 2012:
- Faster access to information enabled by improved search tools, customer and vendor history panels and transactions lists
- Simplifications for multi-step tasks, including batch processing for online banking transactions and new invoicing options


QuickBooks for Mac 2012 will be available through Intuit beginning September 26th and a number of other third-party retailers, including Apple's online and retail stores, as of October 9th. Pricing is set at $229.95 for a single user, with 2-user pricing coming in at $439.95 and 3-user pricing at $599.95. Additional licenses are available for $209.95 each.