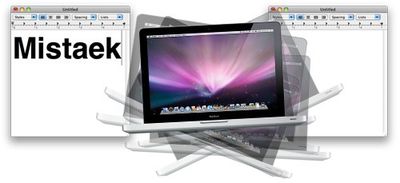 Apple introduced "Shake to Undo" in the iPhone and iPod Touch in iOS 3.0 when it enabled Cut/Copy/Paste functions. Now, a third-party developer has brought a similar "function" to sudden motion sensor-equipped Apple notebooks.
OSXDaily first noticed the software, written by Nate Stedman. It presses Command-Z -- the standard undo keystroke -- when the sudden motion sensor detects movement. There is a confirmation screen that users can enable to prevent accidental undos.
The sudden motion sensor is normally used to "park" the heads of a hard drive to prevent physical damage during a drop or other sudden movement. Solid-state drives, like those in the MacBook Air, are immune to this sort of damage. So, we don't actually recommend anyone use this software, but it's an interesting proof of concept.
Get Shake-to-Undo for Mac free from GitHub.