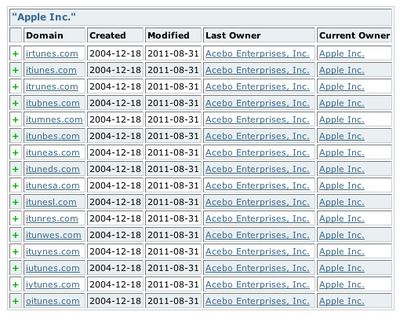 Sloppy typists should have an easier time reaching Apple's iTunes pages now, as the company this week acquired a batch of at least 16 domain names representing misspelled variants of the company's itunes.com domain. The newly-transfered domains include:
irtunes.com, itiunes.com, itrunes.com, itubnes.com, itumnes.com, itunbes.com, ituneas.com, ituneds.com, itunesa.com, itunesl.com, itunres.com, itunwes.com, ituynes.com, iutunes.com, iytunes.com, oitunes.com
All of the domains had been registered in December 2004, and Apple acquired them from Acebo Enterprises, Inc. The domains currently redirect to Apple's main iTunes page.
All 16 of the misspellings relate to "fat finger" errors, with each containing an extra letter appearing somewhere in the URL and those extra letters falling adjacent to a neighboring correct letter on the keyboard.