Parallels Desktop 7 for Mac Allows You to Run Windows and Even Another Copy of Lion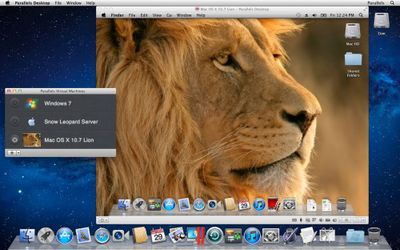 Running Windows 7 and OS X Lion
Parallels has
announced
version 7 of their popular virtualization software that allows Mac users to run Windows on their machines alongside Mac OS X. The new version is said to include 90 new features and enhancements including:
- Lion integration and support, including Launchpad and Mission Control for Windows programs
- Shared iSight and FaceTime HD cameras in both Windows and Mac
- Up to 1GB of video memory, for ultra-high resolutions
- Improved graphics performance, up to 45% faster 3D
- 60% faster resuming Windows
- Windows on Demand - purchase and automatically install Windows on your Mac from Parallels Desktop 7 in the U.S.
Parallels 7 supports running OS X Lion as a "guest" operating system under virtualization, meaning you can run a completely separate copy of Lion within your main copy of Lion. In July, we reported that Apple had changed the license agreement in OS X Lion that allowed users to run up to 2 additional copies of Lion on a single machine without the need for extra licenses.



iOS app on iPad
Parallels also released a update to their
Universal iOS app
that allows you to control your Mac, virtual machines, and all their applications.
Parallels Desktop 7 for Mac will be available today as an upgrade for current Parallels Desktop version 5 and 6 users for $49.99. Full price will be $79.99 with student version at $39.99. Parallels 7 will be available for download and in retail starting on September 6th.