Despite Apple's Denial, iTunes Match is Streaming
Yesterday, we reported that the developer beta of Apple's iTunes Match appeared to show options for both streaming and downloading content from the cloud to a user's device. But some questions have arisen about just how the service functions, as a new report from AllThingsD shares word from an Apple spokesperson that the service is not actually a streaming one.
While a video making the rounds today makes it seem as if Apple's upcoming iTunes Match service will stream music from Apple's servers to a user's device, that's not the case. An Apple spokesperson confirms that any music you want to access from your cloud-based "locker" will still need to be stored on your iPad, or iPhone, or whatever device you're using to listen to the song.
The difference appears to be one of semantics, however, with Apple's claims of the service requiring tracks to be downloaded actually related to local caching of streamed tracks.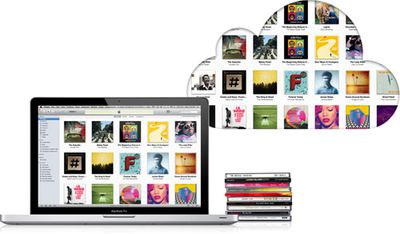 Traditional streaming services maintain constant connections, buffering only a small amount of the currently-playing track at any given time. Apple's streaming solution appears to download each track in its entirety once streaming begins. Upon tapping on the track to begin playing without initiating the full iCloud download process, the track begins playing immediately just as with other streaming services. But in reality, the full track appears to be downloaded to a local cache on the user's device, allowing for fast access to any portion of the track.
Once the track has been fully played, it remains available in that cache and can be re-accessed without needing to re-stream, but it is not considered permanently downloaded and is not counted as being in the device's music library. A video from Jeff of iDownloadBlog demonstrates a streamed track being replayed after the device is put into Airplane Mode.
As shown in the video, switching away from the cached track while in Airplane Mode appears to empty the cache, and the device is unable to replay the track if the user returns to it.
The result is a service that acts just like a traditional streaming service, but one which may provide a better experience for users, especially in areas of unstable network coverage for those on the go. As noted by AllThingsD, the reason for Apple's implementation appears to not be due to any lack of a license for full-fledged streaming.
Instead, says music executive X, this is a philosophical/design issue on Apple's part.

Part of it is that Apple doesn't trust the current telecom ecosystem to handle on-demand streaming of library files every time someone wants to use them — look how much trouble AT&T has had with the iPhone to date. But the other part is that Apple wants its users to think of entertainment as something they consume on Apple device — as opposed to the Google and Amazon approach, which lets consumers grab anything they want on any device with a browser.
Apple has officially remained vague about just how the service works, but it certainly appears that the company has employed a streaming service with expanded caching capabilities allowing for storage of an entire track. Users also have the option to download tracks directly by tapping on the iCloud icon associated with each track.
Thanks to @insanely_great for assistance and clarification.
Update: This YouTube video walks through the streaming vs not streaming debate.