Apple Projected to Lead Tablet Market Through 2013 as Rivals Stumble
Research firm IHS iSuppli has released updated projections for tablet sales through 2015, showing Apple maintaining its leadership position longer than previously expected as rivals continue to be unable to make a significant dent in the iPad's position.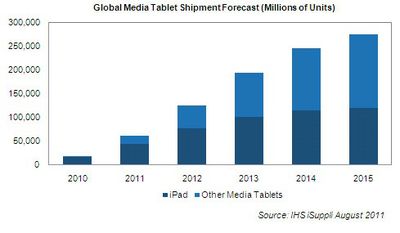 According to the report, Apple is projected to ship 44.2 million iPads this year, up 500,000 from the firm's previous estimate. That previous number had, however, been lowered from earlier projections after Apple posted lower-than-expected sales early figures for the iPad 2 as it struggled to ramp up production. The new 44.2 million figure for 2011 is expected to represent 74% of the total tablet market, up from 64% in the previous report.
"All the momentum in the media tablet market is with Apple right now," said Rhoda Alexander, senior manager, tablet and monitor research for IHS. "The competition can't seem to field a product with the right combination of hardware, marketing, applications and content to match up with the iPad. Furthermore, Apple's patent litigation is serving to slow or complicate competitors' entry into some key regional markets. With Apple lapping its competitors, many of whom are still struggling to get out of the starting gate, this remains a one-horse race."
Looking out even further, IHS iSuppli now sees Apple holding onto its majority share of the tablet market through 2013, one year longer than previously anticipated. At the far end of its projections, the report sees Apple shipping 120 million iPads in 2015, up from previous projections of 97.9 million units. Even at that extended timeframe, Apple is projected to hold 43.6% of the tablet market, up significantly from earlier estimates of 32%.