Apple Suing Motorola Over Design of Xoom Tablet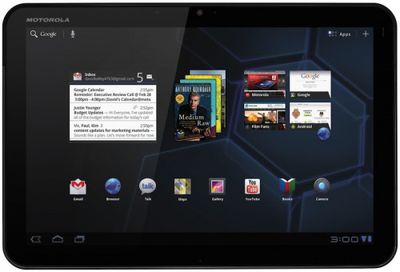 While Apple has been engaged in a number of high-profile patent lawsuits with its competitors offering Android-based hardware, one of the quieter disputes has gained new attention today following a discovery by FOSS Patents that Apple has in fact sued Motorola in Europe, claiming that the Motorola Xoom tablet infringes upon the design of Apple's products. The revelation comes in a court document filed in Germany and associated with the preliminary injunction granted against Samsung yesterday barring sale of the Galaxy Tab 10.1.
Prior to or simultaneously with the motion for a preliminary injunction against Samsung, Apple also filed a complaint with the same court over the design of the Motorola Xoom tablet. Here's a passage from the Samsung complaint that mentions two other lawsuits Apple instigated against iPad competitors -- Motorola and a local German company named JAY-tech...
The document does not state whether Apple has pushed for a preliminary injunction against the sale of the Xoom in the European Union as it did for the Galaxy Tab 10.1, but Apple is presumably seeking a more permanent injunction against Motorola's tablet offering.


Apple also notes in its filing that a preliminary injunction against JAY-tech was granted and further upheld "in its entirety" following a hearing. Apple does not specify exactly what model of tablet from JAY-tech was the subject of the injunction, but JAY-tech last year began offering a budget 7-inch Android-based tablet, and the company no longer appears to be selling that product.
Motorola fired the first shot against Apple last October, claiming infringement of a series of 18 Motorola patents by a broad array of Apple's Mac and iOS products. Apple responded a few weeks later with a lawsuit focused on multi-touch functionality and targeting Motorola's Droid and other smartphones.
Things have generally been quiet between Apple and Motorola since the initial filings last year, but today's revelation makes clear that Apple has continued to press its case and gone on the offensive against not only Motorola's smartphones but also its tablets.