Apple Briefly the Most Valuable Company in the World [Updated]
Apple, Inc. was, several times today, the most valuable public company in the world as measured by market capitalization. Apple's market cap briefly passed ExxonMobil today, just after 1PM, reaching $341.55 billion in valuation. ExxonMobil was valued at $341.42 billion. Both stocks fluctuated throughout the day, but ExxonMobil closed the day at a higher valuation.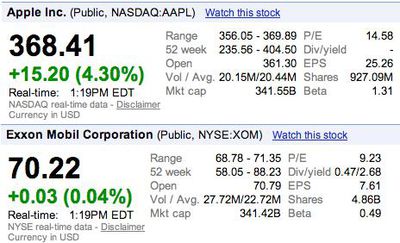 Apple didn't pass ExxonMobil by rocketing up in price, however. It merely hasn't fallen as far during the current market downturn. Both AAPL and XOM are significantly off their highs as the overall markets have dropped over the past couple weeks.

Five-year comparison of Apple and Exxon Mobil market capitalizations (Source: YCharts)
Today, Apple is having a strong day, up more than 4%, while Exxon is near flat.
At the time, Apple's stock was trading at $368.40, off 8% from its all-time high of $404 - but ExxonMobil had fallen farther, down 20% to $70.21 from just over $88.
Update: While Apple dropped back a bit after its initial move past ExxonMobil and quickly relinquished the lead, ExxonMobil has pulled back more than Apple has over the past few hours, and Apple now holds a market cap lead of $4-5 billion.
Update x2: At 4PM Eastern, the end of the trading day, ExxonMobil closed at $71.64 with a market cap of $348.32 billion. Apple closed at $374.01, valued at $346.74 billion, some $1.6 billion behind XOM.