Apple's Profit Share Among Top Mobile Phone Vendors Rises to 66%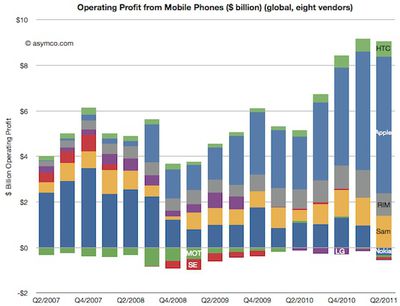 Apple's share of profits raked in by the world's top publicly-traded mobile phone vendors rose once again this quarter, as asymco's Horace Dediu notes in the latest edition of his quarterly tracking reports. According to Dediu's calculations, Apple's share of profits among the eight companies tracked rose to 66%, up from 57% last quarter.
This quarter saw a slight sequential decline in overall profit for the sector, but four vendors did not manage a profit from selling phones. Nokia, Motorola, Sony-Ericsson and LG all saw losses. The other vendors split the slightly decreased pie with Apple getting two thirds of it (66.3%)

This share is up from 57% in Q1 and 50% in Q3 and Q4. Samsung's share went to 15%, though that's not a peak level historically. In Q1 2008 the company was at 21%. RIM was at 11%, a level in a range that has been unchanged for three years. Finally, HTC captured 7.4%, a new high and an increase from 6% since last quarter.
Dediu notes that smartphones have become the primary driver of mobile phone vendor profitability, giving Apple a significant edge over most of the competition with its smartphone-only offerings.


Apple first grabbed the profit share lead from Nokia way back in the fourth quarter of 2008, and hit the 50% mark a year ago in the third quarter of 2010. Apple of course only holds about 5.6% unit share in the total mobile phone market, but earns much more profit on its premium-priced iPhones than other vendors do with their offerings.