One-Third of iPhone Users Mistakenly Think They Have 4G
According to a new survey from Retrevo, 34% of iPhone users are under the mistaken impression that they already have "4G" cellular technology on their devices, highlighting the confusion that has resulted from shifting definitions of just what constitutes "4G" speeds.
Maybe the "4" in the iPhone 4 name gives iPhone owners (34%) the false impression that they already own a 4G phone but the fact is Apple doesn't offer a 4G phone at the moment. Coincidentally, a suspiciously large percentage of Android and BlackBerry owners may be suffering from the same delusion. BlackBerry owners (24%) are almost as confused as iPhone owners since RIM doesn't currently offer a 4G phone. At least some Android owners could be answering correctly as Android 4G phones like the HTC Evo 4G or Samsung Infuse 4G have been available for some time. If nothing else this large number of "misinformed" phone owners serves to emphasize the fact that consumers are quite confused about 4G.
Confusing the issue is the fact that the marketing term "4G" is now being used to apply to not only the Long Term Evolution (LTE) technology being rolled out by Verizon and other carriers but also HSPA+ networks such as those run by AT&T and T-Mobile. In addition, carriers running HSPA+ and LTE network won't necessarily all be offering the same speeds for a given standard, resulting in a spectrum of data speeds for consumers to compare.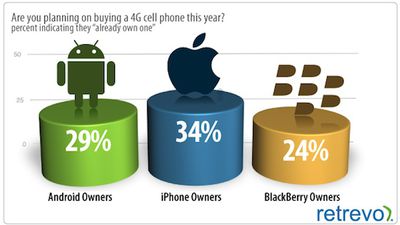 Apple is not expected to offer LTE support in the next-generation iPhone, but has been said to be supporting HSPA+, which would technically make the iPhone a 4G device on GSM carriers that support the HSPA+ standard. But consumers appear willing to embrace the next iPhone even if it doesn't have 4G capabilities, with 40% of current iPhone owners stating they will be buying the next iPhone even without 4G and an additional 21% stating that they would consider purchasing it. Significant percentages of current Android and BlackBerry owners are also registering interest in the next iPhone, with or without 4G.