AT&T Announces Summer Launch of New LTE Modem and Hotspot Devices
AT&T today announced (via Engadget) the forthcoming launch of two new LTE-enabled wireless access devices: the USBConnect Momentum 4G and the Mobile Hotspot Elevate 4G. Both devices are coming "this summer", will support LTE, HSPA+, and earlier technologies, and will offer support for Mac OS X Leopard or later.
With plug-and-play installation that takes about 60 seconds to complete on Windows computers, AT&T USBConnect Momentum 4G customers can access 4G LTE speeds, where available, and when out of range have access to AT&T's nationwide HSPA+ network, delivering 4G speeds when combined with enhanced backhaul. They can also take advantage of unlimited usage on AT&T's entire national Wi-Fi network if using a post-paid data plan, and manage their connections and data usage with the preloaded AT&T Communication Manager.

The company's first 4G LTE mobile hotspot device, the AT&T Mobile Hotspot Elevate 4G, allows access to 4G LTE speeds on up to five Wi-Fi enabled devices in select markets. Email, browse, download presentations and more when you're out and about - without skipping a beat no matter if you are on LTE or AT&T's nationwide HSPA+ network. With no software to install and an LCD screen to guide you, setting up AT&T Mobile Hotspot is fast and easy. Just power it up and connect your laptop using the Wi-Fi network name and security key displayed on the screen. Easily view device and connection status on the LCD, including battery status, signal strength, and data usage.
Pricing is set at $49.99 for the Momentum 4G and $69.99 for the Elevate 4G after $50 mail-in rebates and with two-year contracts.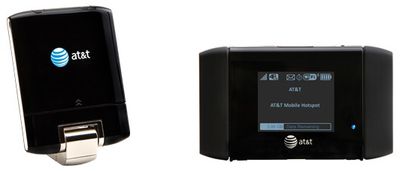 AT&T is launching its LTE in five markets this summer: Atlanta, Chicago, Dallas, Houston, and San Diego. The carrier plans to expand the network to at least 15 markets and cover 70 million Americans by the end of the year. AT&T has yet to announce, however, expected real-world data speeds for its LTE network.