App Store Tops 100,000 Available iPad Applications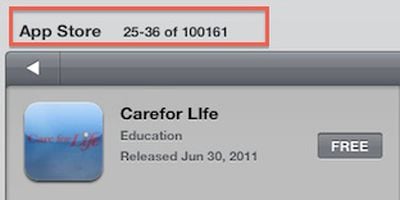 As noted by MacStories, Apple's App Store has reached yet another milestone, now offering over 100,000 iPad-specific applications.
Apple and third-party developers have set a new record: in 453 days since the original iPad came out on April 3, 2010, the App Store has more than 100,000 iPad-exclusive apps available. Either specifically targeting the tablet, or released as universal updates to existing iPhone apps, at the moment of writing this there are 100,161 iPad apps in the Store. How do I know? The App Store app itself on my iPad shows that.
Our sister site AppShopper, which tracks iPhone, iPad, iPod touch, and Mac App Store apps, currently has the available iPad app count at just over 106,000, as it relies on a slightly different recording method supplied by Apple's API for tracking App Store apps.
Apple currently offers over 400,000 total apps in its iOS App Store, and over 5,000 more in its Mac App Store.