iOS 5 Beta 2: User Interface Tweaks, 3G Over-the-Air Updates, Native Scrolling in Safari
Apple's iOS 5 Beta 2 that was released to developers Friday contains a number of new findings. The biggest one we covered yesterday with the additional of Wi-Fi syncing.
AppleInsider posts a couple of screenshots from the new lock-screen notifications which show a slightly more prominent display: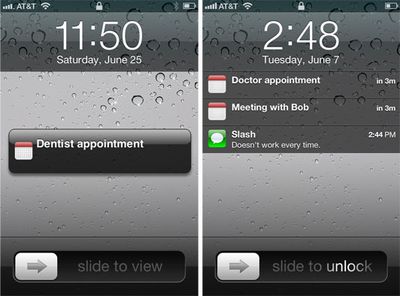 They also point out that the keyboard in iMessage now recedes when scrolling upwards into message history.


3G download support for Over the Air updates appears to be confirmed with these strings found by 9to5mac. Apple had announced that the new version of iOS will support "Over the Air" updates which allows the operating system to be upgraded without syncing to your computer. These strings seem to indicate that this can occur over Wi-Fi or 3G.
Another more subtle tweak was posted by Johan Brook which reveals that Apple is now supporting a new CSS property that will allow web developers to get "native" iOS scrolling behavior in their web apps. This refers to the "momentum" inherent in native apps. DaringFireball previously described this behavior:
One area in particular where iPhone web apps fall short of native iPhone apps is scrolling. Take for example a long list, such as your full address book in Contacts, or all your songs in the iPod app. When you scroll these lists, you can fling the list, and the list will scroll at high speed after you let go. The effect is sort of like spinning a wheel with very little friction. With iPhone web apps, you can make a list that looks almost, maybe even exactly, like a native iPhone list view. But all web views on the iPhone scroll with almost no momentum. You can't fling them. iPhone web views feel like they have a lot of scrolling friction.
While there have been javascript work-arounds floating around, with iOS 5 this functionality will be easily implemented for web apps.