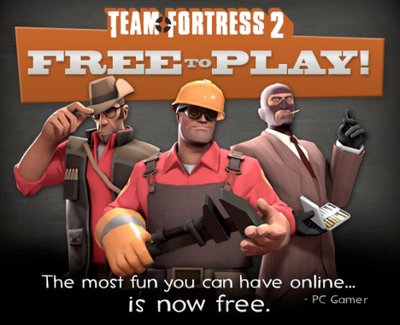 Team Fortress 2, Valve's class-based cartoonish first-person shooter, which was one of the first Steam-powered games to arrive on the Mac, is now totally free. Valve will generate revenue from TF2 by selling the many items available through random drops in the game via microtransactions in a TF2 store.
Players can purchase new weapons and upgrades through the Steam Wallet, Steam's microtransaction service. For players who don't want to spend any money (and don't mind waiting), TF2 will keep its random drop system, which will eventually hand out all the upgrades the game has to offer.
Many of the new items that the company adds to the game are created by community members, and Valve splits revenue from community-designed items with the creator, much like Apple's App Store.
Team Fortress 2 manager Robin Walker said in an interview with Develop that for multiplayer games in particular, the more folks playing the game, the better.
The more players, the more available servers in your area, the wider variety of other players you'll find, the greater the opportunity for new experiences, and so on.

Another way we think of it is that there are a class of players who will never pay us a dime, for a variety of reasons. We're not upset by that, it's just a constraint we need to design around. The interesting problem to solve is how to make those freeloaders produce value for our paying customers. Obviously, getting those free players into the game is the first step to doing that.
Team Fortress 2 is a free download through Steam.