Apple Releases WWDC 2011 Session Videos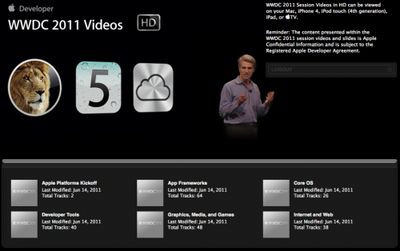 Apple is in the process of posting videos from the WWDC 2011 on iTunes and Apple's developer page. The video page was updated briefly yesterday, but the videos were never posted but we have confirmed that they are available on iTunes.
The sessions include videos and matching slideshows for 109 different sessions, covering App Frameworks (32 sessions), Core OS (13 sessions), Developer Tools (20 sessions), Graphics, Media and Games (24 sessions), and Internet and Web (19 sessions.)
Videos can be accessed in either SD or HD by registered developers by visiting the Development Videos page and clicking on "Log in to iTunes" on the bottom left.