Inside Apple's Retail Store Operation
In the wake of yesterday's announcement regarding Apple retail chief Ron Johnson's pending departure to take the CEO position at department store chain J.C. Penney, The Wall Street Journal publishes an extensive look at the company's retail store operations and philosophy, relying on internal training materials and interviews with former employees to gain a sense of what Apple is doing differently from other companies that has made its retail stores such an overwhelming success.
A look at confidential training manuals, a recording of a store meeting and interviews with more than a dozen current and former employees reveal some of Apple's store secrets. They include: intensive control of how employees interact with customers, scripted training for on-site tech support and consideration of every store detail down to the pre-loaded photos and music on demo devices.
While much of the information has been published in other venues or is simply common knowledge given the company's retail store workforce of 30,000 employees, the extensive report does nicely summarize much of what has gone into developing the Apple retail store experience.
According to several employees and training manuals, sales associates are taught an unusual sales philosophy: not to sell, but rather to help customers solve problems. "Your job is to understand all of your customers' needs - some of which they may not even realize they have," one training manual says. To that end, employees receive no sales commissions and have no sales quotas.
While Apple may not have strict sales quotas in place for its employees, the company does certainly have performance goals for metrics such as "attachment rates", the frequency with which staff members are able to convince customers to add on ancillary products such as AppleCare to their purchases. Staff members who fall short of the goals receive additional sales training or are diverted to other positions within the store.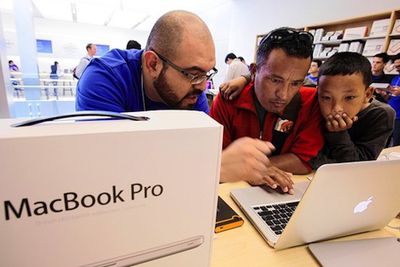 The report also covers the history of Apple's retail store initiative, noting that it began at a time when Apple was struggling to return to prominence following the return of Steve Jobs and when the company was having a hard time achieving appropriate visibility in third-party retail stores. Even in stores such as CompUSA where Apple had dedicated display areas, the company was frustrated over its inability to control the customer experience.
Consequently, Jobs brought in Gap president Mickey Drexler, who joined Apple's board and assisted with defining the company's retail store goals. Ron Johnson was recruited from Target to lead the effort, and the retail store push began with an extensive period of planning and mockups that ultimately led to the first two stores opening in Tysons Corner, Virginia and Glendale, California in May 2001.
Apple's meticulous attention to detail extends down to its hiring process, where prospective employees generally participate in several rounds of competitive interviews assessing a variety of details including problem-solving skills, leadership qualities, and enthusiasm for Apple products.
Once hired, employees are trained extensively. Recruits are drilled in classes that apply Apple's principles of customer service. Back on the sales floor, new hires must shadow more experienced colleagues and aren't allowed to interact with customers on their own until they're deemed ready. That can be a couple of weeks or even longer.
Apple's retail store chain has already grown to over 325 stores in eleven countries, and the company has been pushing forward on larger and more iconic stores in an ever-growing number of markets, continually extending its reach with what has become one the most successful retail sales models in use today.