iOS Developers Embracing Alternative Mobile Platforms, Shying Away From Mac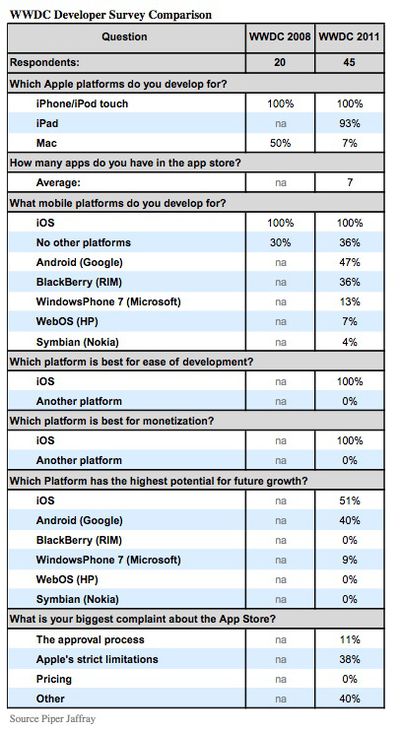 Fortune reports on a new survey conducted by Piper Jaffray analyst Gene Munster at Apple's Worldwide Developers Conference last week in which he surveyed a number of developer attendees to gain an understanding of their development interests. Interestingly, nearly half of the 45 developers surveyed reported that they are also developing for Android, while only a third revealed that they are developing BlackBerry applications.
Only 7% of surveyed developers reported that they are also developing for OS X, indicating that Apple's new Mac App Store and integrated Xcode development tools still have a significant market on the OS X side that remains untapped. A full 93% of iPhone developers unsurprisingly reported also developing for iPad, tapping into the rapidly-growing tablet market as a natural extension of their iPhone and iPod touch businesses.
While the developers unsurprisingly (given their attendance at WWDC) unanimously chose iOS as the platform that is easiest for development and best for monetization, only approximately half of the developers regarded iOS as having the highest growth potential. Even among these dedicated iOS developers, 40% of respondents cited Android as having the highest potential for future growth.
Munster attempts to compare his results to a similar survey of 20 developers conducted at WWDC 2008, but with only a handful of results from that earlier survey providing little detail and the wholesale changes in iOS and the smartphone industry since that time, it is difficult to make comparisons. For example, iOS developer interest in the Mac platform appears to have plummeted from 50% to 7% over the past three years, but it is important to remember the context of 2008 when Apple was just launching the App Store and iOS developers were commonly Mac developers who had begun dabbling in iOS applications. The reverse is now true, with over 400,000 iOS applications available and a number of developers finding that iOS development is a sustainable business on its own.