Evernote Peek: The First iPad Smart Cover App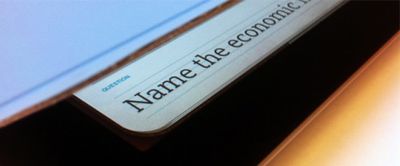 The folks behind Evernote, the notetaking and organizational app, have come up with an interesting new iPad app called Evernote Peek. The app offers a unique use of Apple's Smart Cover to help users study, learn, and improve their memory.
Evernote Peek works by connecting to an existing Evernote account where your study materials are stored. When you're ready, close the Smart Cover, then fold the first panel back to reveal the question. When you think you have the answer, fold the second panel back and check. Peek will even keep track of which answers you get incorrect so you can go back later (it's on the honor system).
Evernote Peek is a very clever use of the Smart Cover technology. It's
free on the App Store
.