Apple Appears Set to Support FaceTime Over 3G in iOS 5, But Will Carriers Follow Suit?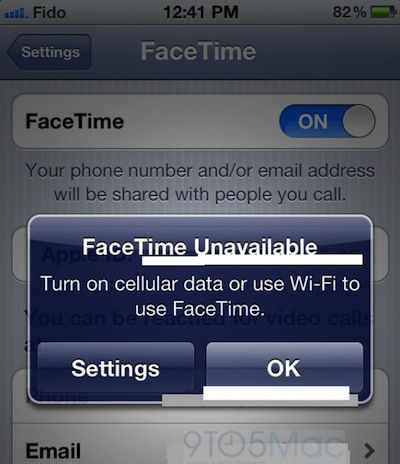 9 to 5 Mac reports that one of its readers has passed along a screenshot of an iOS 5 dialog box suggesting that Apple is preparing to support FaceTime video calling over cellular networks with the new operating system set for release this fall.
FaceTime Unavailable

Turn on cellular data or use Wi-Fi to use FaceTime.
FaceTime has officially been limited to Wi-Fi on iOS devices since its debut last year, although users have been able to work around that limitation using either jailbreaking solutions or MiFi connectivity.
Official FaceTime support over cellular networks will almost certainly require individual carriers to also be on board in much the same way that carriers have needed to support Internet tethering and other features that have the potential to significantly increase demand on their networks.