WWDC Kicks Off on Monday: Mac OS X Lion, iOS 5 and iCloud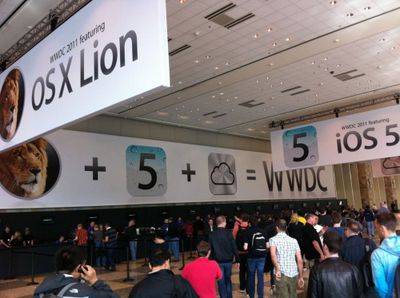 Apple's 2011 Worldwide Developer's Conference kicks off tomorrow with a keynote from Steve Jobs starting at 10am Pacific. Apple has already revealed that they will be talking about Mac OS X Lion, iOS 5 and iCloud at the event. Developer registration began today (photos above and below).
The early speculation about iCloud had primarily focused on Apple's impending deals with music companies and the ability to stream iTunes music to your Macs and iOS devices. But more recently, there's been talk about new iOS-powered Time Capsules that how might serve as some sort of file syncing hub or update caching system.
iOS seems up for a major update with rumors of revamped notifications and widgets as well as major twitter integration. A new Automatic Downloads feature for Apps also seems certain.
There have been some hints that Mac OS X Lion may be practically ready to launch with some even pinpointing date of June 14th as the targeted released date.

As always, there are usually last minute rumors and leaks on the night prior to the event, so stay tuned.
Unfortunately, there's been no indication that Apple will be video streaming this event, but we'll provide live coverage during the keynote with photos and updates. Follow us @MacRumorsLive for live updates and @MacRumors for ongoing news and updates.