Amazon's New Mac Download Store Takes On Apple's Mac App Store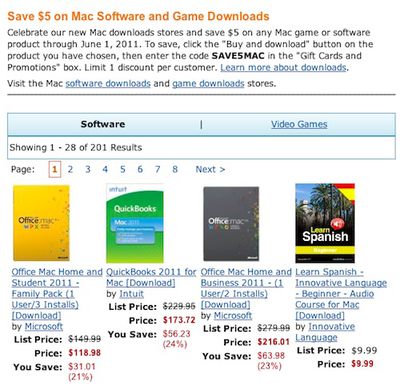 As noted by The Loop, Amazon has launched a new download store for Mac OS X applications, going head-to-head against Apple's Mac App Store. While Amazon's download store does not offer the level of system integration featured by Apple's store, it does offer a few big name titles like Microsoft Office that are not available through Apple's Mac App Store.
Competing directing with Apple's Mac Store, Amazon says its store has 250 of the biggest software and game titles available for Mac. In fact, they have some titles that Apple's store doesn't.
A number of popular video game publishers including EA, Aspyr, and Feral Interactive are also included on Amazon's store.
Amazon's download mechanism appears to offer a basic downloadable installer for each title, forgoing any integrated installation system. Purchases are also stored in users' digital lockers associated with their Amazon accounts, allowing unlimited downloads for personal use.
To celebrate the launch of the Mac download store, Amazon is offering a one-time use coupon good for $5 off of a purchase from the store through June 1st.