UK Carrier Three Lists White iPhone 4 for April 20th Delivery?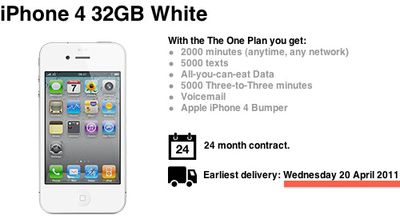 As
noted by Recombu
, UK wireless carrier Three is now showing the white iPhone 4 as
available for purchase
on its website, listing an "earliest delivery" date of this Wednesday, April 20th.
Officially, Three representatives have only stated that the deal is not yet live and that they do not yet have any other information on the white iPhone 4.
Multiple mainstream news sources have indicated that the white iPhone 4 is finally in production and is expected to be released by the end of the month. Italian site iPhoneItalia has claimed that the device will launch on April 26th.