'Amazing' Demand May Have Fueled Sales of Up to 1 Million iPad 2s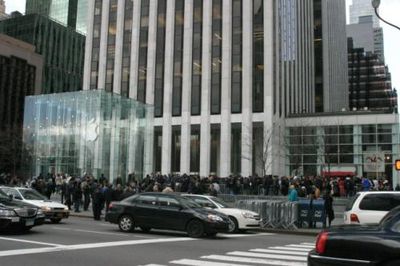 Launch day at Fifth Avenue store in Manhattan (Source: BGR)
Fortune
provides a
nice summary
of feedback from research analysts regarding the iPad 2 launch weekend in the United States, with the analysts weighing in with sales estimates ranging from 500,000 up to one million units.
Most analysts were cautious, fearing perhaps that whatever they wrote would soon be overtaken by an Apple (AAPL) press release. Most, like Piper Jaffray's Gene Munster, stuck with 500,000 units. But Baird's William Power estimated that Apple sold "roughly 1 million" the first weekend, Wedbush's Scott Sutherland "wouldn't be surprised" by that number and Global Equities Trip Chowdhry thought Apple "may have sold" three times as many iPad 2s as iPad 1s its first weekend, which amounts to the same thing.
Launch supplies of the iPad 2 were obviously concentrated at Apple's own retail stores, where the longest lines were also seen. Headcounts at Apple's flagship Fifth Avenue store in Manhattan ranged from 1,200 to as high as 3,000 customers. Meanwhile, third-party retailers such as Best Buy with smaller stocks typically saw units sell out in just a matter of minutes at their stores.
For its part, Apple has yet to announce specific iPad 2 sales figures, although a spokesperson did issue a statement to The Loop calling demand "amazing".
"Demand for the next generation iPad 2 has been amazing," Apple spokesperson Trudy Muller, told The Loop. "We are working hard to get iPad 2 into the hands of every customer who wants one as quickly as possible."
Apple should be restocking iPad 2 units at its retail stores on a nearly-daily basis, but the timing of those shipments is unknown and potential customers may find lines as other shoppers seek to bypass the 3-4 week wait now in place for new online orders.