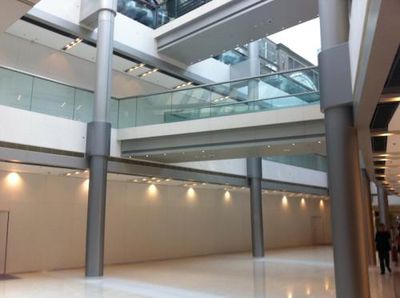 Last week, we
noted
that Apple is apparently set to open its first retail store in Hong Kong by the end of the year, pursuing a 15,000 square-foot space in the IFC Mall.
A tipster by the name of Sean has sent us the above photo showing the space already sectioned off in the mall for Apple's store. While the coverings for the store are currently simple white wallboard, Sean tells us that ten store sites spanning two levels of the mall have been vacated to make room for Apple's new store.
Based on this information and an examination of the IFC Mall floor plans, we've been able to pinpoint the location of Apple's store (circled in blue on the images below) at the far eastern edge of the mall, close to Two IFC, one of the tallest office buildings in the world at well over 1300 feet, as well as a number of transit and ferry terminals.