While today's big news has been the release of new MacBook Pros, the downtime on Apple's online store also brought a number of other changes for other machines, primarily in the areas of build-to-order hard drive and RAM upgrades.
On the hard drive front, build-to-order upgrades to 500 GB hard drives on the MacBook and Mac mini saw $50 price drops. The MacBook comes with a 250 GB hard drive standard, with an upgrade to 320 GB priced at $50 and an upgrade to 500 GB priced at $100. The upgrade to 500 GB was previously priced at $150 over the base model. The Mac mini with its baseline 320 GB hard drive saw a similar change, with the upgrade charge for a 500 GB hard drive dropping from $100 to $50.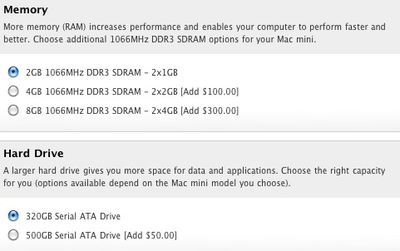 Apple's new Mac mini RAM and hard drive pricing
The Mac mini was also one of a number of machines to see changes to high-end RAM offerings, with the upgrade to 8 GB (2 x 4 GB sticks) now bringing an upcharge of $300 over the base 2 x 1 GB configuration, down from a $500 surcharge previously.
The iMac also sees some RAM tweaks, with the 21.5-inch model seeing the upgrade to 8 GB model holding the same $200 charge as before but moving from a 4 x 2 GB configuration to a 2 x 4 GB configuration, leaving the door open for further upgrades in the two remaining slots.
The 27-inch iMac sees a simplified and reduced price RAM upgrade structure, building off of the standard 4 GB model in a 2 x 2 GB configuration. Apple had previously offered two separate upgrades to 8 GB in 4 x 2 GB (+$200) and 2 x 4 GB (+$400) configurations, but Apple now offers only the 2 x 4 GB configuration at the lower $200 charge. Apple also lowered the price of the 16 GB (4 x 4 GB) upgrade from $1000 to $600.
Finally, the Mac Pro also saw shifts in RAM availability and pricing, with Apple for the first time offering direct build-to-order options for up to 64 GB of RAM using 8 GB modules. On the low-end quad-core Mac Pro model, RAM pricing remains the same up to 8 GB, but Apple has reduced pricing on the 12 GB and 16 GB configurations from $1275 to $525 and $1775 to $775 respectively. Now inheriting the old price points are new 24 GB ($1275) and 32 GB ($1775) options.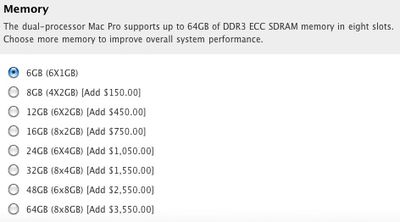 Apple's new 8-core Mac Pro RAM pricing
And on the 8-core and 12-core Mac Pros, pricing similarly remains as before through 16 GB, while the 24 GB upgrade slides from $2550 to $1050 and the 32 GB upgrade moves from $3550 to $1550. New 48 GB and 64 GB options are now available at the $2550 and $3550 price points respectively.