Closer Look Photo of Thunderbolt (Light Peak) Port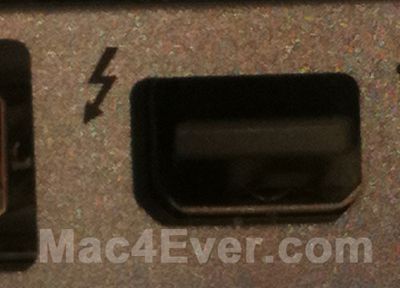 Early this morning, a couple of sites posted specs from the upcoming low end 13" MacBook Pro and revealed that Apple will be incorporating Light Peak into the new machines under the name "Thunderbolt". We've confirmed that these specs and photos are legitimate, but only for the low end 13" MacBook Pro model. We still haven't seen the specs for the mid-range and high-end model.
Mac4Ever has posted a followup close-up image of the new Thunderbolt/DisplayPort hybrid port found on the new 13" MacBook Pro.
Intel is expected to officially launch Light Peak/Thunderbolt on Thursday alongside Apple's new MacBook Pros.