UK Carriers Slash iPad Prices Ahead of Expected Refresh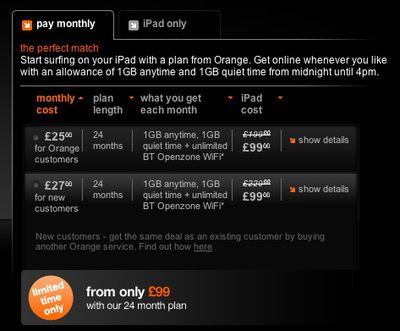 TechRadar reports
that a pair of UK wireless carriers have slashed their pricing on 3G-capable iPad models, presumably looking to clear stock ahead of an anticipated update to the popular tablet device. The two carriers, Orange and T-Mobile, are offering the price drops to those customers signing up for 24-month data contracts.
Orange is now selling the iPad for £99 on its 24-month contracts and T-Mobile is offering the same to existing customers.
Previously, Orange was offering the iPad WiFi + 3G at £199.99 upfront on a £25 per month contract to existing customers and at £229.99 for new customers on a £27 per month contract - so the new pricing offers a saving of at least £100 on each.
T-Mobile, meanwhile, is only offering the discount to existing customers on a 24-month £25 tariff.
Orange, T-Mobile, and Three all launched subsidized iPad pricing back in December for customers willing to commit to two-year data contracts.